Malace Ruddicks


Basics
Name
Malace Ruddicks
Nickname(s)
Mal, Mally
Gender
Female
Age
24
Birthday
Feb 21
Species
Human
Status
Away
Biography
Nationality
British American
Hometown
London
Family
Parents
Juliet and Maxwell Ruddicks
Sibling(s)
Henry and James Ruddicks (deceased)
Partner
Drago
Children
Pandora
Professional life
Position
Na
Rank
none
OOC information
Creator
CherryAequitas
Status
Alive
The night on June 8th 2014, Malace spotted a red headed man she wanted to flirt a little with, Seeing he was dressing up in a mask and suit she though he was going to a party. She followed him, little did she know it would take her back to the year 1758... Now she helps out in the engine room here and there.
Talents and Skills
Edit
A piece of piping
Crowbar
Combat Skills and Abilities
Edit
Education and Intellegence Background
Edit
Malace is very well educated and has about average intellengence
Short term:

Long Term:
To be married one day and live happily
Personality
Edit
Weakesses
Edit
every character needs these. Try to list atleast 3
She believes that everyone has a right to be who they want to be. But if you do something bad karma will come bite you in the ass
Appearance
Edit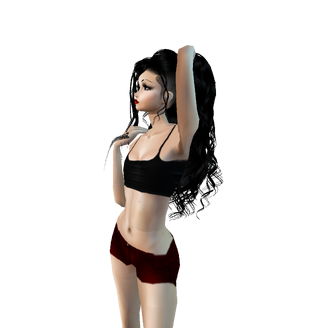 Malace has fair skin, dark plump lips, and wavy raven black hair.She is 5' 9" and weighs about 160 pounds.On the back left side of her neck are two puncture scars that drag back to the nape of her neck.The scars are from her being attacked when she was younger.
Relationships
Edit
Maxwell Ruddicks
Juliet Ruddicks
Grand ParentsEdit
Emily and Mark McCloud (dead// Juliet's parents)
Sarah and James Ruddicks (dead// Maxwell's parents)
No one at the moment
None
FriendshipsEdit
Doesn't have anyone close
Background
Edit
When Juliet was seven months pregent with Malace. She couldn't wait to find out the gender of her new child like she had plan with her husband. So she went to the doctor with her twin boys finding out she was having a girl. On the way home the twins ran into street getting hit by a car, sending Juliet into early labor. James died at the scene while Henry died in the hospitly as his baby sister was being born.

As a young girl she was attacked by a vampire from behind, while waiting on the corner down the street from her home. Thanks to her friend, Johnathan, who was coming to met her and showing up when he did, ripped her away from the beast before it could drained her dry. The vampire fled once people began to show up. Nothing happen to her really, but she wasn't the same either. She knew who it was that attacked her and said nothing in order to protect him.