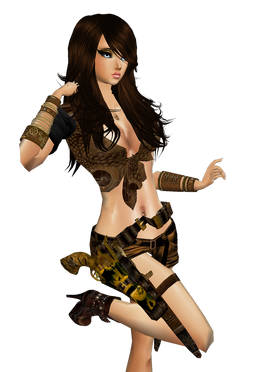 Cecilia was one of the original crew. Joining the group from a young age. Originally being a shy, naieve young girl, Cece has blossomed into a feirce, bitchy and fun individual. Being Killed by Fleer she was soon brought back as a Mermaid, and thus the reign of the steampunked muse continues. Talented and friendly, she is the woman many turn to in order to have a heart to heart with, usually being found playing her harp by the waters.
| | |
| --- | --- |
| Position: | Muse |
| Rank: | C-Rank |
| Full Name: | Cecilia Von Burgen  |
| Nicknames: | Cece, Cissy |
| Race: | Mermaid Resurrected Human  |
| Age: | 18 |
| Birthday: | April 25th |
| Nationality: | French |
| Hometown: | Calias, France |
| Parents: | Catherine Elise Von Burgen (nee Roux), Edward Harold Von Burgen |
| Siblings: | Edward Harold Von Burgen the Second |
| Children: | N/A |
Talents and Skills
Edit
Skilled musician and singer
Able diplomat
Two daggers strapped to thighs
Two short, thin swords that are strapped in an X shape on her back
One pistol, slung on a belt
Combat Skills and Abilities
Edit
Can moderatly control water.
Can speak to sea creatures.
Is a great spy/rouge/theif
Good with the use of guns
A skilled short range fighter using daggers and short swords
Heightened senses.
Education and Intellegence Background
Edit
Personality
Edit
Weakesses
Edit
Nearby water quantities depends on water ability strength.
Appearance
Edit
Relationships
Edit
Grand ParentsEdit
Siblings Edit
FriendshipsEdit
Background
Edit