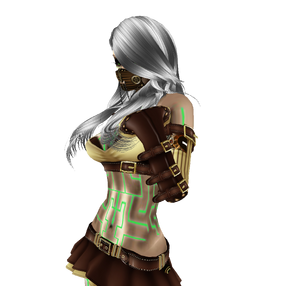 Berry was one of the original crew. Having come from a military based background she followed Jacob on the ship, acting as a nurse under the doctor Rollen. She was in a relationship with Jacob for 5 years before they had a argument, and Jacob soon sleeping with Cecelia, Berry's sister. After this the pair broke up and Berry drifted into depression Berry took to suicidal thoughts. Being loss of a lover, threatened from her job and ridiculed by the crew, it wasn't a suprise when she allowed Kura to take her life. Berry was dead for over 6 months before Kura placed her soul within hedwig. Soon finding ways to annoy her old lover, Jacob restored her into the like of a cyborg beauty, a woman that he holds dear even now. Since that of a human Berry has been able to see glimpses of the future within her dreams.
| | |
| --- | --- |
| Position: | Nurse |
| Rank: | B-Rank |
| Full Name: | Berry Eva Darkangel |
| Nicknames: | Pretty Lady |
| Race: | Human ressurected Android |
| Age: | 20 |
| Birthday: | May 27th |
| Nationality: | Native-American |
| Hometown: | London |
| Parents: | Chris Darkanger |
| Siblings: | Cecelia Von Burgen |
| Children: | N/A |
Talents and SkillsEditEdit
she can see the future through dreaming she is a part gypsy...
thigh dagger
Combat Skills and AbilitiesEditEdit
future teller
Education and Intellegence BackgroundEditEdit
military
she is depressed every now and then but is more self confident now and days so she is happy enjoying her life to the fullest...
her kidness Jacob and mila...
she use to look green til her old teacher made her a special necklace that makes her skin look like what she once was....